Description
The Automation Department of Grups Electrical specializes in projects pertaining to control automation systems. It consists of a team of well qualified engineers who expertise in the automation fields such as PLC, variable speed drives, computer controlled systems, etc.

1) Provide solution for any automatic sequencing required by a client
2) Provide Optimum Control Design with control diagram
3) Translate it into hardware using either Conventional Logic Control Component, Programmable Logic Controller (PLC), Variable Speed Drives (VSD) (AC / DC)
4) Build turnkey Control Panel in our Panel Builder factory
5) Solve inveterate Problems in your current automation System by introducing the optimum and satisfactory modification
6) Consultative in Control systems Design and Solutions in many fields
7) Modifying your current control system to match your new requirement.
8) Provide the Technical Support from the design to troubleshooting from through the phone to your site visiting.
9) Provide training courses to certain number of your engineers and/or technicians on the new system.
SIEMENS PLC S7 200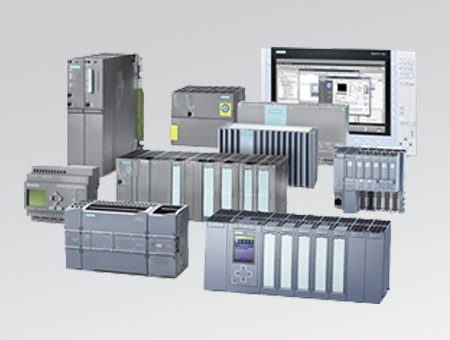 >
S7 200 MOST RELIABLE AND FLEXIBLE CPU The Micro range PLC SIMATIC S7-200 is truly in class of its own SIEMENS S7 200 is both compact and highly powerful especially considering its real-time response fast, features, great communication options and comes with easy-to-operate software and hardware

Starting range of SIEMENS PLC is with S7 200CN CPU . It consist of Digital, analog, specific or communicative S7 200 Programming is based on the easy-to-use engineering software STEP 7 Micro/WIN.

As a result, the SIMATIC S7-200 Micro PLC is a most reliable, fast and flexible programmable controller in the field of micro automation. S7 200 CPU is most reliable for OEM and small application like in Packaging, Pharmaceutical industries. S7 200 can be used as standalone PLC. All this makes the SIMATIC S7-200 a great choice for open-loop control in the lower performance range. Become one of the thousands of SIEMENS S7-200 customers that constantly benefit from Siemens PLC innovation and lower cost of ownership.
SIEMENS PLC S7 1200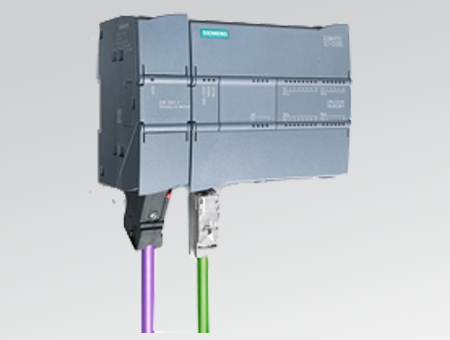 >
There are many good reasons to start switching to SIMATIC S7-1200 Controller and the TIA Portal engineering.
S7 1200 PROGRAMMING saving Up to 30% engineering savings on development time because of global libraries, the modular code structure and intelligent drag & drop
• S7 1200 is saving Up to 25% commissioning savings during start up thanks to the concept of cross references and the integrated projects
• Up to 60% operational savings for downtime events: shorter downtime and integrated system diagnostics
• The TIA Portal software is the common engineering tool that creates efficient integrated solutions with the SIMATIC S7-1200 controller and the SIMATIC Basic Panels.

The SIMATIC S7-1200 controller has been designed with maximum flexibility to fit your individual machine requirements. S7 1200 allows you to custom design your controller system to meet your needs;

Industrial communication in Siemens PLC s7 1200

The SIMATIC S7-1200's integrated PROFINET interface provides seamless communication with the SIMATIC STEP 7 Basic engineering system for programming, with SIMATIC KTP HMI Basic Panels for visualization, S7 1200 SIEMENS PLC with additional controllers for PLC-to-PLC communication and with third-party devices for advanced integration options. As a SIEMENS system house our engineers are competent to provide you all necessary support for commissioning of SIEMENS S7 1200 PLC
SIMATIC STEP 7 Basic
Integrated engineering software for S7 1200 PLC and KTP basic HMI SIMATIC STEP 7 Basic engineering system allows integrated engineering for the S7-1200 micro controllers and SIMATIC HMI Basic Panels. SIMATIC step 7 includes all necessary functions and tools for hardware and network configuration, uploading & down loading Program and diagnostics etc. SIMATIC S7-1200 also includes WinCC Basic for SIMATIC HMI Basic Panels.

Application

SIEMENS S7-1200 is the controller for open-loop and closed loop control tasks in mechanical equipment manufacture and plant construction. It combines maximum automation and minimum cost.Due to the compact modular design with a high performance at the same time, the SIMATIC S7-1200 is suitable for a wide variety of automation applications. Its range of use extends from the replacement of relays and contactors and timers up to complex automation tasks in networks . being authorized Siemens PLC dealer our engineers are trained to execute all necessary task

>
SIEMENS PLC ET200S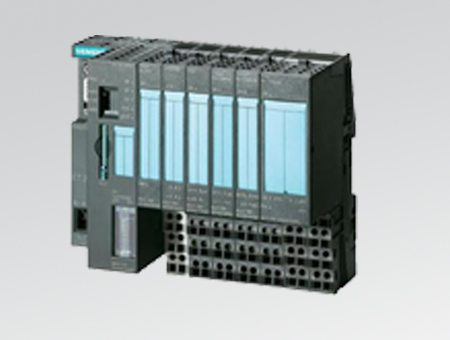 >
Distributed I/O with local intelligence
With SIMATIC ET 200 a wide range of distributed I/O systems is available – for solutions in the control cabinet or without a control cabinet directly at the machine, ready to be integrated into any automation solution via PROFIBUS or PROFINET.

ET 200S CPUs with protection rating IP 20
The IM151-7 CPU and IM151-8 PN/DP CPU for the ET 200S system can be used in stand-alone mode as well as for distributed automation solutions The CPUs correspond to a SIMATIC S7-300 CPU 314 and enable distributed preprocessing of the production data locally – even in the failsafe version. The SIEMENS IM151-7 CPU communicates with the higher-level programmable controller over the coexistent MPI/PROFIBUS DP slave interface. The IM151-8 PN/DP CPU has a PROFINET interface with 3 ports on-board and can optionally be expanded with a PROFIBUS-DP master module.

ET 200pro CPU with protection rating IP 65/67
The interface module IM154-8 CPU with CPU functionality is based on the CPU 315-2 PN/DP and offers the same quantitative framework and functions. The IM154-8 CPU has one combined MPI/PROFIBUS DP interface and one PROFINET interface with three ports. The IM 154-8 CPU supports both PROFINET IO (up to 128 IO devices can be connected) and PROFINET CBA, as well as PROFIBUS DP (as master for up to 124 slaves).

>
SIEMENS PLC S7 300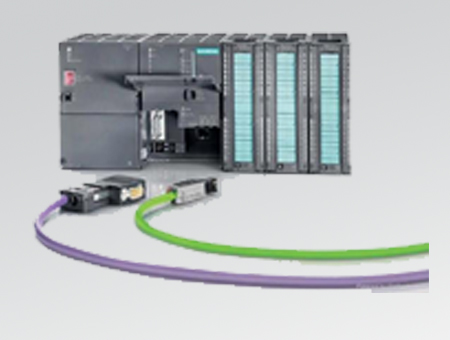 SIEMENS s7 300 CPU is Powerful, compact and cost-effective Controller, The SIMATIC S7-300 universal controller saves on installation space and features a modular design. A wide range of modules can be used in s7 300 family to expand the system centrally. SIMATIC S7 300 PLC is also can be use to communicate with remote IOS. . S7 300 Family is perfect selection of modular controller for the system solution in manufacturing automation in the low to Mid performance range

>
SIMATIC S7 400




The most powerful Automation System within SIMATIC

SIMATIC S7 400 CPU is having superb communication capability and integrated interfaces make process controller ideal for larger tasks such as the coordination of entire systems. The graded range of S7 400 CPUs enables scalable performance and the capacity for remote I/O periphery is virtually unlimited. In s7 400 CPU process controller signal modules can be inserted and removed while the system is live (hot swapping), making it very easy to expand the system or replace modules The Power Controller for system solutions in the manufacturing and process industries Within the Siemens Controller family, the SIMATIC S7-400 PLC
(Manufacturer and Supplier of S7 200 SMART PLC in Abudhabi, Ahmedabad, Siemens S7 1200 SMART Distributer, S7 300 Price, S7 1200 PLC manufacturers in pune, S7 400 PLC suppliers in dubai , SUPPLIERS OF S7 300 producers, Siemens KTP 1500 exporters in Nashik , Siemens S7 200 SMART Stockist in Kalkota , S7 314 PLC trading Company in Bangalore , Siemens V20 VFD dealer in Abu Dhabi , Programmable logic controller manufacturers Kuwait, in Bangalore, Manufacturers Supplier Wholesalers KTP 600 in Mumbai , KTP 1000 , SIEMENS HMI dealer in vasai , Mumbai , Pune , Ahmadabad , Baroda , Delhi , Banglore , Dubai , Tashkent , Dhaka , Chennai , India , Allen Bradley PLC in Monrovia, Telangana, India. Siemens S7 1500 Modules in Nashik , Siemens S7 200 SMART Modules Exporter, Manufacturer, Service Provider, Supplier in Chennai, s7 1500 smart Trading Company Ahmadabad, Siemens System House in Vapi, Hydrabad india , Manufacturer and Supplier of Siemens CPU 1214 in UAE, CPU 1212, KTP600, KTP1000 , TP 700 Comfort, TP900 HMI, KP400 colour in Vapi, Surat, Siemens S7 313 , S7 314, SIMATIC S7-1500 dealer in lagos, Micro PLC, S7 200 technical specification , Siemens PLC dealer in Tashkent , dealer and supplier in dubai ,Dubai ; Oman; Kuwait; Bahrain; Qatar; Saudi Arabia; Middle East & North Africa, Mogadishu, Khartoum-Omdurman, Dar es Salaam, Alexandria, Casablanca, Accra, Nairobi, Kano, Algiers, Addis Ababa, Luanda, Dakar, Tripoli, uae, Harare, Douala, Hargeisa, )

We have successfully completed following installation
• Centrifuge application installed Bangalore used Siemens Sinamic MM440 and SIEMENS S7 300 CPU successfully commissioned in Ashgabat, Turkey
• PLC based control system for Rotary Dryer of 1000 Ltr / Hour in stalled in KOLKATA, India . In this system we used SINAMIC V20 Drive and S7 200 Smart PLC

• We Become Number One Siemens System House in India for selling Highest number of Sinamic V20 VFD

• Siemens also awarded our company as Highest OEM converted SIEMENS SYSTEM HOUSE in India
• Siemens s7 314 PLC and G120 Drive installed in Vadodara, Gujarat, India for HVAC application
• Cream Manufacturing plant using SIEMENS S7 1200 PLC with KTP 600 HMI installed at Dhaka in Bangladesh
• Automation of Ointment Plant in pharma company . In this we used Siemens S7 313 PLC with Wincc Scada System installed at Chittagong , Bangladesh

Automation of Rapid mixer granulator of 400 Ltr Capacity using SIEMENS S7 1200 PLC and Siemens KTP 1000 HMI at Khulna , Near Dhaka , Bangladesh.
• Automation tea Bag machinery using SIEMENS S7 200 Smart at Bukhara , Near Tashkent in Uzbekistan
• Siemens S7 400 PLC and Siemens HMI TP700 used for Centrifuge application. It is completely commissioned at Bursa, Turkey
• Powder handling system for Chemical Plant using Siemens PLC S7 200 Smart and KTP 600 HMI at Tehran
• Automated Mixing plant using Siemens S7 1200 and SIEMENS KTP 1000 HMI in Singapore
• Online Vision inspection system for rejection of defected component by using SICK cameras and Siemens S7 200 Smart PLC and Siemens Wincc Scada system commissioned successfully at Tashkent ,Uzbekistan.
• Automation of Oil filtration plant by using s7 300 PLC and Wincc Simatic Scada of 2048 Tags . We have completed Commissioning in Samarkand , Uzbekistan
• Fully automatic Heat treatment system . Used Siemens S7 300 PLC and Siemens HMI of Comfort TP 900 with Wincc Scada system at Nigeria
• Automatic packaging system with Siemens servo drive and Siemens s7 200 PLC commissioned at Pritampur near NEW DELHI.
• Automatic Conveyer system for foods and beverages plant in Pune , Maharashtra , India . This project has been completed by using SIEMENS S 7 300 PLC with ET 200s Remote IOs and Siemens HMI of KTP 1000
• Automatic material handling system for bottling plant installed at Chennai, Andhra Pradesh, India. We have successfully installed Siemens S7 1200 PLC with Siemens KTP 600 HMI.
• Fully automatic LP Gas Bottling plant include weigh metric bottle filling .and Sealing system at Nepal . We Integrate Siemens V20 VFD and Siemens S7 200 Smart PLC,
• Fully automatic LP Gas Bottling plant include weigh metric bottle filling .and Sealing system at Nigeria . We Integrate Siemens G120 VFD and Siemens S7 400 PLC, at Kano.
• Water treatment plant and ETP plant automated by using Siemens PLC s7 200 CPU and Siemens HMI of KTP 600
• Fully automatic CIP and SIP system in pharma industry at Nigeria . We integrate Siemens S7 1200 PLC with SIEMENS KTP 600 HMI
• SIEMENS PLC based automated control panel for Fume extraction system installed at Indore , Madhya Pradesh , India
• Being Siemens System House an Siemens Distributer in India ,We are only Siemens System house who execute automatic ASRS system . In Which we have successfully integrate Many Siemens and Non Siemens Automation product . We did integration of SIEMENS ET 200 S PLCwith Siemens Basic HMI of KTP 600 , SIEMENS Wincc Scada , Siemens Sinamic S120 servo Drive . We commissioned this system at Vishakhapatnam in Telangana, India

• Done automation of Online Box wrapping system using Siemens S7 200 Smart PLC and Siemens KTP 600 HMI at Tashkent , Uzbekistan and Alexandria
M/s Grups Automation, Being Authorized SIEMENS system House and Distributer all over India, We provide all type of supports and services in following cities and industrial
1. Mumbai , Maharashra
2. Pune , Maharashtra
3. Ahmadabad , gujrat
4. Vapi
5. Surat
6. Vadodara
7. Chennai
8. Vishakhapatnam
9. Kollam
10. Hubli
11. Coimbatore
12. Delhi / New Delhi
13. Chhotanagpur
14. Kolkata
M/s Grups Automation also export Automation panels by using SIEMENS PLC , HMI and VFD . We have successfully completed installations in
• Dubai,
• Abu Dhabi;
• Oman
• Kuwait
• Bahrain
• Qatar
• Saudi Arabia
• Nigeria
• Tashkent
• Jeddah,
• Mecca,
• Medina
• Dhaka
• Seeb
• Salalah in Oman
• Astana,
• Almaty in Kazakhstan
• Mogadishu,
• Khartoum-Omdurman,
• Dar es Salaam,
• Alexandria,
• Casablanca,
• Accra,
• Nairobi,
• Kano,
• Algiers,
• Addis Ababa,
• Luanda,
• Dakar,
• Tripoli,
• UAE,
• Harare,
• Douala,
• Hargeisa,